As a Home Owner,
AFTER OWNING YOUR HOUSE FOR 5 YEARS,
WHAT CAN YOU LOOK FORWARD TO?
You can start exploring upgrading opportunities and eventually OWN A 2ND PROPERTY FOR RENTAL INCOME with the right planning…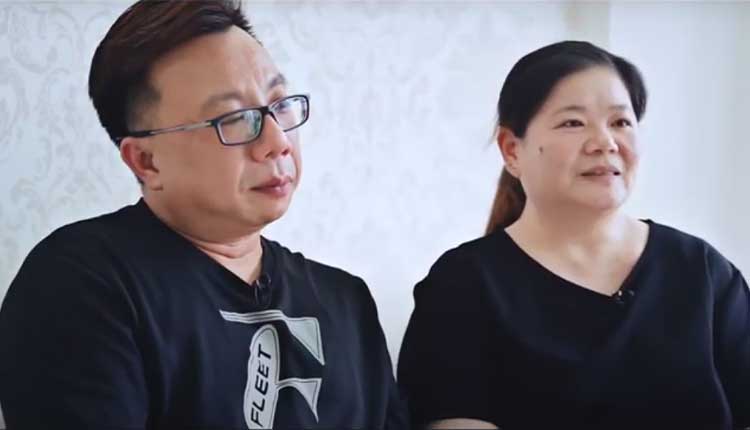 BUT WHY IS IT NECESSARY??
Because I want you to have a more comfortable retirement!
LET'S SEE THE BENEFITS OF HAVING ANOTHER PROPERTY FOR RENTAL INCOME…
Imagine you retire at 65 years old with TWO properties.
One property is giving you a passive income of $2k every month on top of your retirement funds.
Ask yourself this…
Owner of 2 properties or Owner of 1 property only?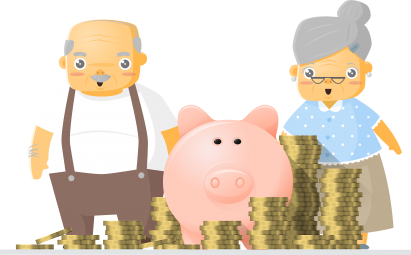 What if you can achieve a steady stream of rental income earlier?
You do not have to be 65 years to achieve this!
DO YOU WANT TO FIND OUT HOW?
If you bought your HDB for more than 5 years and have a combined income of $7k, you can start exploring your options…
Discover your very own home progression plan to create EXTRA INCOME today!
However, there is a problem… upgrading or owning a 2nd property is NOT a common thought in many home owners' mind or part of their life goals.
If they have extra cash, they would probably…
Why would anyone want to increase their financial burdens?
Many HDB Owners looked at this as a burden because
they do not see the BENEFITS of having it!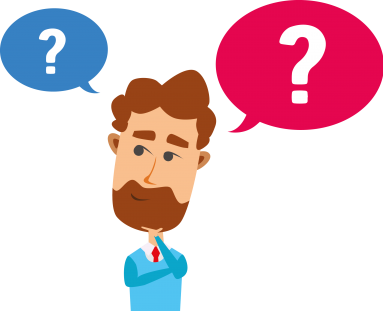 Dear Home Owners,
Achieving a 2nd property and creating extra income can be done
WITHOUT EXTRA STRESS OR FINANCIAL BURDENS!
YOU JUST NEED TO KNOW HOW TO DO IT.
Do you know a second property can
lower your monthly instalment!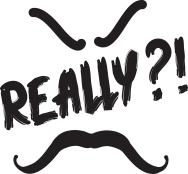 For example, let's look at Mr Ang's family case.
Mr and Mrs Ang were planning to get married and buy a HDB resale flat together. (This is a common scenario among many Singaporeans because many think that a HDB flat should be their first property.)
However, after careful financial calculations and the right home ownership strategies, they realized they could actually
own 2 properties with a lower monthly instalment!
1 property for own stay and a 2nd property for rental income.
The rental income helps to lower the total mortgage of the 2 properties.
HAS THIS EVER CROSSED YOUR MIND?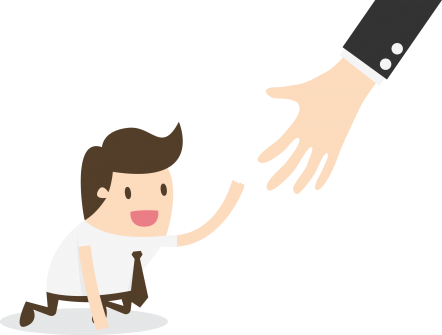 This is something that many Singaporeans DO NOT KNOW
This is POSSIBLE and it is just one of the many options that is possible for HDB Owners like yourself
Home owners, you need to know that…
As you get older, you are limiting your options to buy,
upgrade or own a 2nd property!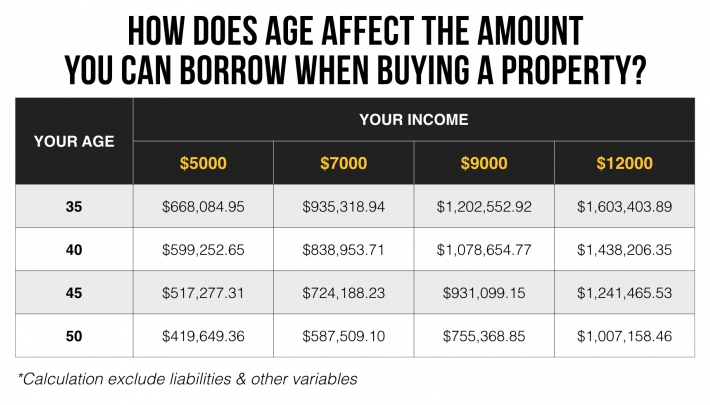 In fact, your loan tenure will be shortened as well.
This means higher monthly instalments.
And let's not forget about INFLATION.
Let me show you the impact of inflation on a property price of $1 million…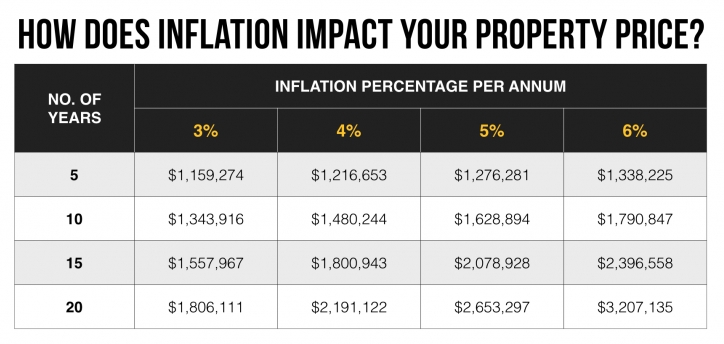 (Property prices are getting more and more expensive…)
To achieve a 2nd property and create extra income
YOU CANNOT AFFORD TO WAIT.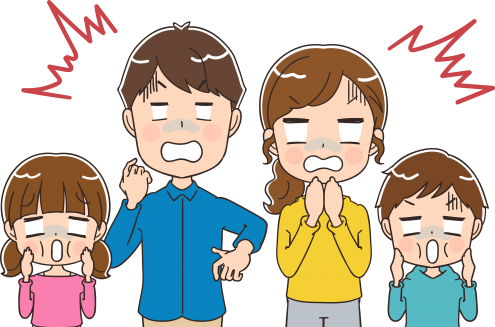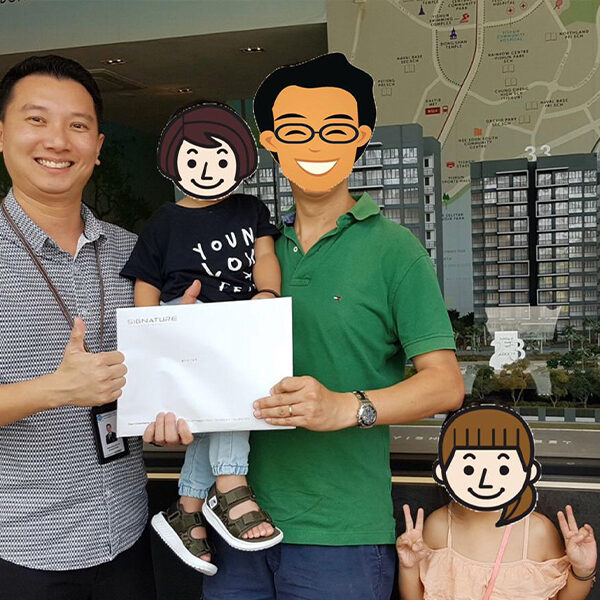 We came to know Clement via his FB page. As the parents of two, just like any other Singaporeans, we are looking for enlightenment and advice on how can we raise our kids, have more savings and ultimately, to have a retirement plan without high risks.
We were looking at upgrading from a 4-bedroom to 5-bedroom HDB. After understanding, evaluating and analysing our income, financial situation, etc. Clement met up with us. He worked out a comprehensive and detailed plan and shared his advice from various perspectives. Instead of upgrading to yet another HDB with its potential depreciation value due to multiple factors, he advised us to explore Executive Condo which is about to TOP or already been TOP recently based on factual findings and rationale to justify the WHYs and HOWs.
We have never been so convinced by a 'Salesman' and time was the essence. After two rounds of meeting and just four days down the road, we bought our EC. Never did we thought of that, but we never look back.
Today, we are proud to say that we have made the right decision just before another high surge of EC price. After an approximate four months, we collected our keys last Thursday. Everything went extremely smooth to us which we are super grateful for. Of course, this cannot be achieved without Clement's assistance during the transition period. It was a dream comes true moment when we stood on the balcony and admired the beauty of the private estate with our kids on the key collection day.
Worth to mention is that we also authorised Clement to sell our 4-bedroom HDB. Why not, right? He had the best clarity of both properties and was able to work out the best based on the timeline, handover, financial transaction, legal procedures, to name a few. And, we sold our HDB in less than 2 weeks.
If one is looking to build wealth and assets systematically via property investment, we highly recommend Clement to you. In fact, we recommend him to all our friends and families. Our experience with him has been really great and comfortable. Clement is knowledgeable, helpful and humble all the time. Most importantly, he is very sincere and genuine. Any questions to him will never get unanswered.
Will we be looking for Clement if we intend to buy another property in future?
He will be our first and absolute advisor to go to.
Clement, thanks for everything. Bring on the great spirits and fantastic work!
LT & JC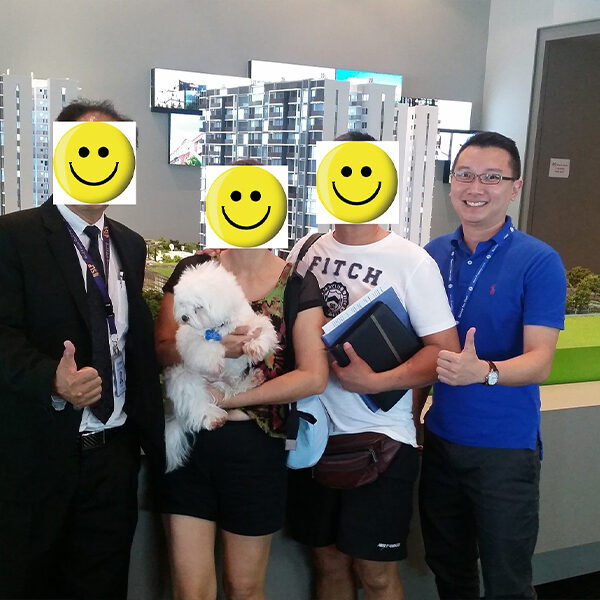 We are really happy to have gotten to know Mr Clement Chew.
We knew about Clement through his interesting and powerful flyer which contained interesting testimonies by clients attesting to Clement's assistance in helping them grow their wealth. Intrigued, we decided to call Clement and met him on 8 Apr 16. Never regretted this move as Clement provided us with interesting facts and information for us to achieve our dream.
We shared with Clement our dream of owning a private condo and at 54 years old, I thought I had already 'missed the boat'. But Clement worked out and proved to us that we could still possibly own a private condo or to be specific an executive condo (based on my age and financial situation). Being knowledgeable in this area and understanding our inspiration/needs, Clement worked out a plan in which we could achieve our dream of owning an EC. You could say that Clement is our Angel, sent by God, to assist us in purchasing our dream home.
Clement wasted no time in getting down to the business of showing us various ECs. His enthusiastic attitude towards assisting us is exemplary as we are aware that he is doing this without any monetary gain. In the end, we booked a unit at Bellewater EC located at Anchorvale Crescent. Clement expertly guided us through the various paperworks; linking us up with auxiliary support such as bankers (ensuring that we get the best possible bank rates – have to say that the service support was first class) as well as linking us up with a lawyer (which charged us a competitive lawyer's fee rate). Without such assistance, we would have wasted a lot of time in getting such services.
Most important attributes about Clement is that he is ENTHUSIASTIC and a TRUSTWORTHY individual. He is knowledgeable, understand his client's needs, and able to provide the best solution for the client.
He is a valuable asset to your company and I am sure he would be go far in this line. With such qualities, I will definitely engage and recommend him to my friends and relatives for all my/their housing needs.
Best Regards.
David and Cynthia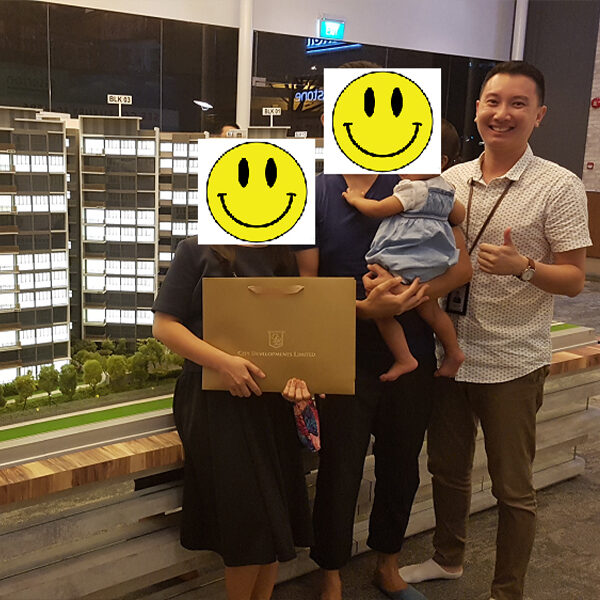 We came home and saw Mr Clement Chew's flyers in front of our door, interestingly, indicating how we can leverage the profits from the sale of our HDB to upgrade to an EC/Condo, and have spare cash on hand.
At that time, our BTO flat had just met the MOP and we were curious to know how this works, so, we eventually met up with Mr Clement for a professional advice.
Clement presented us with a few good options, including detailed financial calculations based on our affordability and we were extremely delighted to realise that we could actually upgrade comfortably to an EC after selling our current BTO flat. The whole process was rather straightforward, however, in between, we did face difficulties in selling our unit due to ethnic restrictions. Clement overcame this obstacle with a breeze, and within the shortest period of time, he managed to secure an eligible buyer for us.
The journey from day one of marketing our house, to selecting our preferred unit, was in fact, a very pleasant one. Clement was there throughout assisting us, making sure everything was in place, and we are now proud owners of a 3-bedder EC by a reputable developer.
This was made possible by Clement's commendable knowledge of the property market, and also his extensive team of dedicated professionals. We can't thank you enough, Clement!
Asrina & Wan
About Clement Consultancy
Clement Consultancy is established in 2006 with the objective to assist our clients to effectively leverage on Real Estate to Create Wealth & Assets Systematically.
If done correctly, we can see ourselves gaining massive profits ( some >$1m ) from the many assets we owned in the critical period of an individual real estate journey, usually between the age of 25 – 60.
The founder, Clement Chew is an experienced real estate trainer & investor who lives by the adage "Millionaires become millionaires not by saving pennies but by investing and leveraging in real estate".
Our unique 3M + 5AP Strategies had successfully assisted thousands of clients & investors and they had benefited from our individual tailored Financial + Assets planning to speed up their retirement goals and financial objectives.
These methods and strategies allowed every of our clients to clearly understand the various options available in order to enhance and to speed up their desired financial or retirement goals
Leverage on our real estate knowledge and expertise to make your next pot of gold today to meet your individual financial objectives!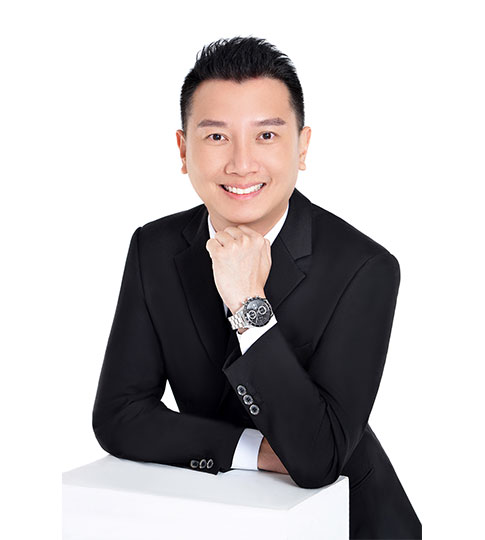 Clement Chew
Assets Strategist / Portfolio Analyst
Life Mastery Academy Trainer
Singapore ACTA certified WSQ Trainer
HDB owners can also enjoy ( F.I.R.S.T )
 Financial Freedom

 Increase Cash Savings > $250,000

 Retire Earlier than their peers

 Set aside Strong Savings for their children

 Tackle and Beat Inflation, approximate 2.5% annually
Many HDB owners are not aware that your 1st subsidized housing is the BEST platform to Grow your Assets and Wealth Systematically.
They often believe that they need to fully pay off their HDB asap before proceeding to upgrade to another Asset and need to save harder in order to realise the dreams of having another property for passive income.
Is this the common thinking or is there a faster way to create and build your wealth systematically?
AVOID making the Common Property Purchasing Mistakes that 85% of Singaporeans did!
Let us Assist you to
Create and Build your Wealth & Assets Systematically
Are you ready to embark on your journey to
Acquire your RIGHT property ?
Learn how multiple groups of Home Buyers / Investors had successfully Made their Right Purchase using my 3M + 5AP statistical findings and Gain Capital Appreciation within 3 years time!